Pre-order your copy now!
Real Poems for Real Moms:
From a Mother in the Trenches to Another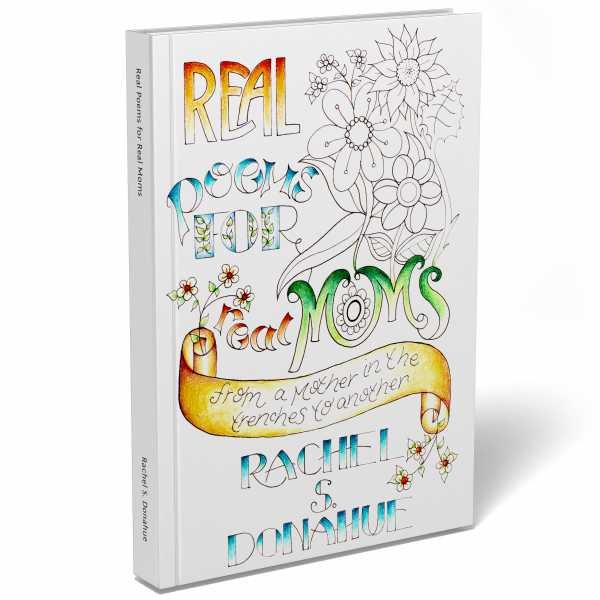 Clothbound with dust jacket
$17.99
$15.99 pre-order!

Pre-order today and receive the following:
A signed copy of Real Poems for Real Moms
A free ebook download of the book
A lovely, ready-to-color bookmark
Words of encouragement, humor, and hope
The joy of providing another mom with a means to afford a babysitter
Pre-ordered books will ship just before the release date of April 15—in ample time for Mother's Day!
"This is such a wise, funny, lovely collection of poems. I'm sure it will deeply bless whoever reads it." ~ Amelia Freidline, poet

"I have had a hard time finding kindred spirits in 'mothering,' but I felt I had found one while reading these poems." ~ Sofia Rector, mom and visual artist
What do you get when an English major spends more than a decade changing diapers? A series of diaper haikus, an ode to a thermos, and a Poesque tale about hiding from kids in the bathroom. In the midst of the dailiness of motherhood, Rachel S. Donahue turns her love of words into a playful expression of the seemingly mundane life of a stay-at-home mom. These thoughtful lines weave honesty and hope together with a touch of humor to encourage other moms who feel stuck in the trenches: you are not alone.
"These poems are a treasure trove of wisdom, life, and humor. They are relevant to moms everywhere, pointing them to hope in the One who gives life more abundantly. This collection gives insight to the mundane struggles, while offering hope and encouragement in brand new mercies every day. Fresh, brilliant, and relatable, and I was brought to laughter and tears time and again!" ~ Anna Waldmann, mom and extremely biased friend
---